My Art: "The Hat" (larger version)
on
October 27, 2009
at
03:00
In a post a few days ago, I showed an oil painting I did a while back that I called "The Hat." You may be more acquainted with him as the host of the monsters' party.   The problem was, though that I could only find a small, thumbnail version of it.
Click this image for a larger version if you'd like to see more detail. Unfortunately, I took this photo with a flash on the camera, so much of the black is reflected back as a glare, which diminishes the full effect of the painting. I'm working on taking some new photos, so you can see it in its natural form, and will have this for sale as a poster in the coming weeks (along with other store goodies).
Also, if you're an EQComics Fan on Facebook, you saw this sketch of PumpkinHead yesterday.  More where that came from.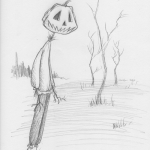 Halloween approaches…