on
October 28, 2009
at
00:00

Hey, it's Wednesday!  So I'm partial to PumpkinHead, so I put a drawing of him up on the Facebook Fan Page.  Click it to see the larger version.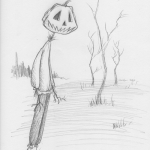 Also, the clock is ticking on nominating your favorite comics for the Webcomic Readers' Choice Awards for 2009.  October 31st is the last day!  Click there to go and nominate your favorite webcomics for whichever categories you see fit.
Halloween approaches… New comic Friday!