New Contest! Literalize a Figure of Speech!
on
July 4, 2010
at
14:47
With all the work he's done thus far, Lord Werriam still has not reached his life goal of literalizing all figures of speech. Now YOU can help him!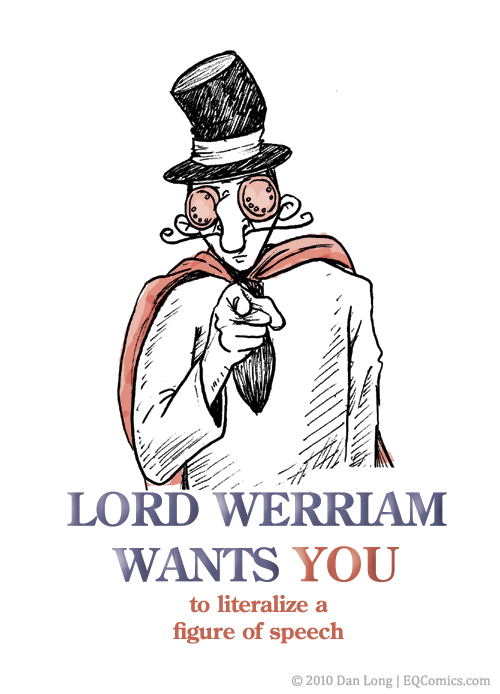 What to do:
Take a figure of speech, any figure of speech, and make it literal! Photographs are preferred, but in the last contest, users submitted comics and videos as well!
Please revisit the Lord Werriam storyline, where he literalized "cloud nine," "jump for joy," and "the meaning of life," among other figures of speech.
What you'll win:
The Top 3 winners will receive an original 9"x12" drawing of Edmund and Lord Werriam in a hot air balloon, with a "thank you" message from Lord Werriam himself! Also, a signed print of the Lord Werriam comic of your choice!  If there is more than one participant in one entry, I can offer multiple prints (so nobody's left out).
For an idea of what the drawings are like, here is an example of the drawing that the top 3 received last contest for hunting snowmen: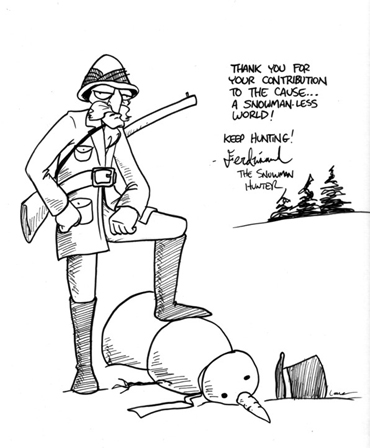 All other participants will receive a prize yet-to-be announced, and most (if not all) entries will be displayed in the contest gallery. Here is the gallery from the Snowman Hunting contest. Go out and photograph yourself literalizing a figure of speech, for the good of the English (or other) language!
Submissions will be accepted until Friday, August 6th. E-mail your entries to EQComics (at~) gmail dot com! (I'm sure you can figure that out, it's coded to thwart spambots).  If you have any questions, don't hesitate to contact me and I'll respond asap.  Now go literalize!