on
August 18, 2009
at
03:00
Hey!  So, I must once again thank Frumph (his blog here) for taking the time to redesign the entire look of my site.  Let me know what you think!  I'll still be messing with random things, probably breaking other things and asking Frumph to fix them again, so forgive me if you come to my site and see a page full of nonsense.  Well, accidental nonsense, at least.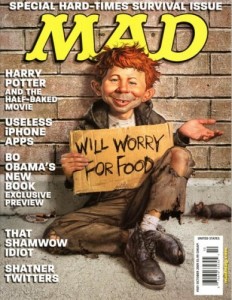 Also, you may already have heard (from me) that I have a strip in the current edition of Mad Magazine, so look for it on the stands!  My strip is in the Strip Club feature, titled "The Long and Short of It."
Apparently my strip is toward the back of the magazine, so be patient when flipping around.  I haven't seen it yet myself, so I can't tell you what page it's on…
So, enjoy your Tuesday!  At least it's not Monday, right?!
Oh, and thanks again to whoever has been "Stumbling" comics of mine- a few have really taken off over there at StumbleUpon!  I really appreciate it.
.